Freshly Baked Cookies
REFRESHING BUBBLE TEA
Delicious Moishi Paradise
Make your events extra special with MOISHI
LOCATIONS
MOISHI DESSERTS

Try our special cakes
ABOUT US
"When it comes to brand loyalty, Carole Moawad, founder of Dubai-based M'OISHÎ, has set a new standard for fans of mochi ice cream around the world. For the uninitiated, mochi ice cream is a novelty Japanese dessert that wraps varied flavors of ice cream in a layer of mochi, a traditional Japanese sticky rice dough that is considered to be a symbol of good fortune- a concept that Moawad first tried during a vacation in Beirut, Lebanon, a few years back. Instantly, she became not just a good enough customer and a raving fan, but this also led her to become the founder of the first (and so far, the only) factory of the Japanese mochi ice cream concept in the UAE. Almost 2 years ago, Carole sent Moishi concept all the way from UAE to Egypt, to become in a very short time, one of the leading Mochi, bubble tea and Japanese desserts' place in town. Throughout the 2 years, Moishi expanded its presence to be available in 6 locations and much more locations will be opened soon: M'OISHÎ." (Tamara Pupic; Entrepreneur Middle East)
"One of her goals at the moment is to take the brand worldwide to turn it into a Japanese cafe concept" (Sarah Garden; Bazaar MEA)

M'OISHÎ MOMENTS
M'OISHI is a way of living, a lifestyle of simple elegance, a commitment to quality, celebration of beauty in a unique way, and most importantly celebrating life by creating happiness through memories shared with our loved ones.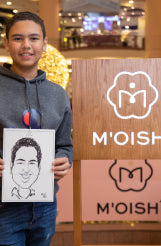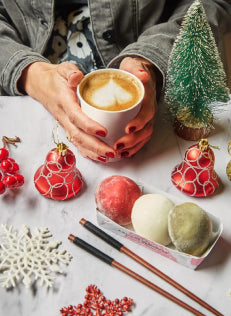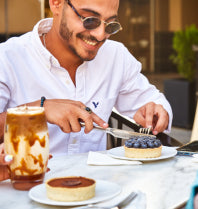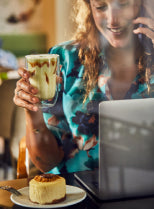 "The Best mochi Ice Cream I have ever had"
"It is the kids favorite, I always have a box at home."
"It is the best gift when invited to dinners, you never over do it with moishi, the minute they are on the table they disappear"
BIRTHDAYS AND
PRIVATE EVENTS